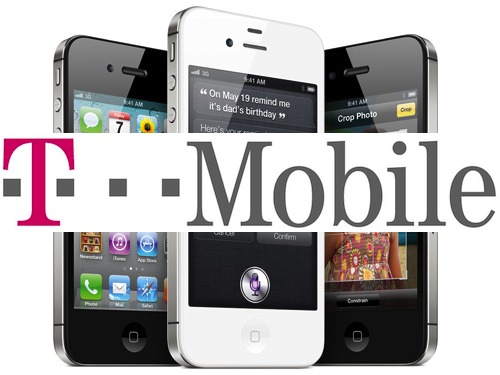 The iPhone 4S might not be offered officially for T-Mobile use, but if you buy an unlocked device and set it up properly, you can use the iPhone 4S and Siri on the T-Mobile network without incident. In fact, over a million iPhones are already on the T-Mobile network, and the company is going to actively support unlocked iPhone devices on their USA network due to immense demand. If you want to use an iPhone 4S on T-Mobile, here is everything necessary to do that.
Requirements:
Unlocked iPhone 4S bought from an Apple Store without a contract, intended for AT&T use
A computer with iTunes
Wi-Fi with internet access
The original AT&T micro-SIM that came with the iPhone 4S
An activate T-Mobile Micro-SIM card
Assuming the requirements are met, read on to get started.

Activate the iPhone 4S for T-Mobile
The first set of things to do involves activating the phone, if you've done this before on another network it's no different here.
Turn the iPhone off
Remove the default micro-sim card
Insert the T-Mobile micro-SIM
Turn the iPhone on with the T-Mobile sim inserted, ignore anything on the phone for now
Connect the iPhone 4S by USB cable to a computer
Launch iTunes
iTunes will find the iPhone 4S and notify you the device is unlocked

Get your Unlocked iPhone 4 here
Now that the iPhone 4S is unlocked, you will be able to make calls but you need to do a few more things to get full functionality.
Setting Up the iPhone 4S for T-Mobile
After the device has been activated on the T-Mobile network, you'll be able to make calls but you may need to perform the following to get data and MMS working on the device itself, this isn't always necessary so presumably it depends on the precise T-Mobile network:
Before beginning, disable Wi-Fi by tapping to Settings > General > Network > Wi-Fi > OFF
On the iPhone 4S, tap on "Settings" , then tap on "General" and then "Network"
Tap on "Cellular Data Network"
Set the following configuration:

APN: epc.tmobile.com Username: Leave Blank Password: Leave Blank

Set the following configuration under MMS:

APN: epc.tmobile.com Username: Leave Blank Password: Leave Blank MMSC: http://mms.msg.eng.t-mobile.com/mms/wapenc MMS Proxy: 216.155.165.50:8080 MMS Max Message Size: 1048576 MMS UA Prof URL: http://www.apple.com/mms/uaprof.rdf

Tap on the Home button to save and exit out of Settings
Reboot the iPhone 4S
Launch Safari to test internet connectivity
Generally you'll end up with EDGE for internet connectivity, but some areas including parts of Alabama, Georgia, Nevada, California, Oregon, and Washington actually have full 3G access. For now the 3G accessibility is hit and miss, but T-Mobile is apparently slowly expanding their network to be compatible.
Jan 28, 2012
osxdaily.com